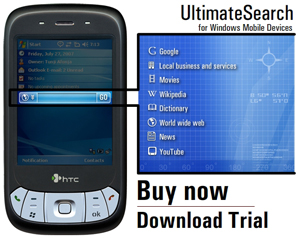 When you are on the go, the faster you can get the information you need, the more efficient and productive you are. UltimateSearch gets you the information you need in the fastest possible manner. This beautifully designed search gadget gives you instant access to all the key search engines you need to access when you are on the move.

UltimateSearch features a unique design. We know your today screen is special territory with your favorite background. This is why we have meticulously designed UltimateSearch to seamlessly blend with the background image.

Unlike when using Windows Mobile Live Search or The Treo's default search which both lead you to who knows where, UltimateSearch gives you pin point accurate results because we have sensibly divided your search into specific categories. Not only do you now search sensibly, but you will be searching smarter.